Would you prefer a chair or a booth?
How many times did you get to ask this question? And how many times was the answer "booth please"? Unless the party is a big one, chances are that "booth" is the most preferred option. And this is probably, one of the main reasons you are now looking to buy booths for your restaurant.
First thing to do before actually buying your dining booths is to decide what kind of booths you need and want. On this page you will find a list of the various types of booths available including ready-made and custom.
Before we continue, we've added below a few diagrams of the various custom booth shapes available: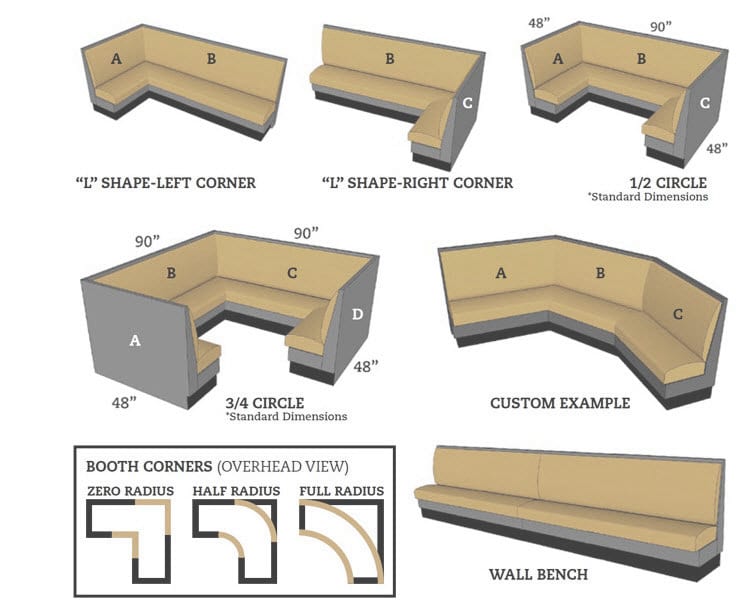 Once you decide on the booth's shape you will need to calculate how many booths you need and how many you can actually install in your venue. For regular shaped booths this means that you will have to measure the length of your wall and based on the type of booths you want you will be able to know how many booths you can fit along that wall - our easy to use, online booth calculator can help you with this task. Don't forget to also consider the width of the area and to leave enough room for easy access for your customers and staff.
This diagram shows you the recommended spacing requirements for creating a comfortable seating space while optimizing the available place:

Although most booths can be configured to various custom dimensions, below is a table and a diagram with the standard sizes for the most common dining booths:
DESIGN
DEUCE SINGLE
DEUCE DOUBLE
SINGLE
DOUBLE
Table Height
42"
42"
42"
42"
Bar Height
54"
54"
54"
54"
Depth
24"
49"
24"
49"
Length
30"
30"
48"
48"
TABLE HEIGHT
BAR HEIGHT
DESIGN
LENGTH
HEIGHT
DEPTH
DESIGN
LENGTH
HEIGHT
DEPTH
Deuce Single
30"
42"
24"
Deuce Single
30"
54"
24"
Deuce Double
30"
42"
49"
Deuce Double
30"
54"
49"
Single
48"
42"
24"
Single
48"
54"
24"
Double
48"
42"
24"
Double
48"
54"
49"

Now that the main issues are behind you, all you need to do is go online, look at the various dining booth designs and choose the one that best matches your restaurant's décor. You can also use the free 3D booth designer to see how your booths will look in vinyl or fabric. If you require a special upholstery material or a logo imprinted on the seating make sure that you can request changes made to the booth prior to purchasing.
This is all you need for the regularly shaped booths. But what if you don't want a regular shape? What if you need a corner booth or an L shaped one? A different shape will require more preparation on your part as you will need to make more measurements and make sure they are correct. After verifying your measurements, you will still need to choose your preferred upholstery and order the booths. However, unlike the standard ones, you will not be able to finalize your order online and you will need to either call the company or have them call you back to receive your measurements and give you a price quote.
To help you better do that, we suggest you become familiar with the right restaurant booths terminology when ordering your booths:
Top & End Caps –The caps are placed on the sides and top of a booth to cover the frame. Upholstered caps are standard but you can also upgrade to solid wood / laminate caps.
Head Roll – An upholstered padded piece at the top of the booth which is used for extra comfort.
Logo Placement – If you are looking to place a logo on your booth the central area of the padded back is where the logo will be placed.
Crumb Strip – The crumbs strip is a 1.5" strip placed between the back of the booth and the seat, allowing for easy cleaning.
Welt Cord – A durable and strong cord stitched to the sides of the seat for both strength and added style. When measuring the booths dimensions the height and length include the top and end caps.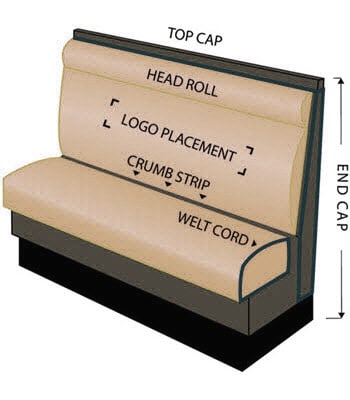 Another thing to remember is that custom made restaurant booths take more time to make and ship, so be sure you order them with time to spare.
To summarize, here is a bulleted list of how to order your restaurant booths:
Decide on the shape of the booths: single, double, wall bench or custom made
Measure available space and calculate the number of booths that can fit in that space
Go online and choose the upholstery that best matches your décor
Order your items but make sure all your contact information is correct, especially if your booths and/or upholstery are custom made
Make sure you order the booths in time and not at the last minute
Enjoy your new restaurant booths!