As a restaurant furniture manufacturer, we want to help you understand the variety of options available to you. When placing an order online for restaurant chairs or bar stools, you are seldom able to see and feel the finished product. Many other companies can be deceiving in their choice of words.
When you see "wood seats" you should ask yourself: Is this solid wood or plywood? A plywood seat is constructed of thin layers of wood to make a seat that looks "solid". How can this be durable?
The solid wood seats on the other hand are comprised solely of solid wood.
Below, you'll find the differences between the two types of seats. You can rest assured that the solid wood seats are much superior than the plywood seats:
Solid wood seats inherit the true beauty of the wood with the grain; the plywood seats will have a flat look.
Solid wood seats are thicker then plywood.
Plywood seats tend to crack over time, this will not happen with solid wood seats. They will serve you longer and your odds of changing seats every year decreases majorly.
The most important things to remember are durability and looks - Those parameters are the exact reason why a Solid Wood Seat is much superior than plywood. Check your vendor before purchasing and ask the right questions. If you need further assistance, our sales professionals will be able to help you. Call us at (888) 495-8884 with any question or concerns.

Our solid wood seats not only look better but have many advantages over the competition's plywood seats.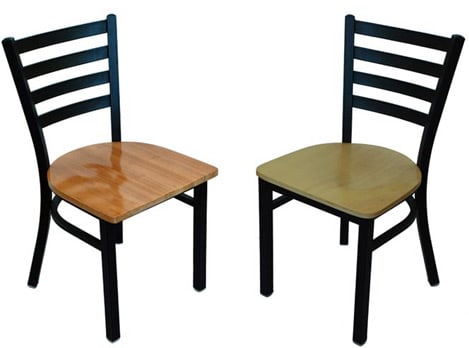 Our seats are thicker and made of natural solid wood rather than 5-8 thin sheets of plywood glued together in layers.

Solid wood allows wood stain to penetrate deep inside to reduce the appearance of scratches and dents. The glue used in plywood prohibits stain to absorb past the first layer. As a result, plywood seats are more prone to show scratches and dents.